Program Kits
---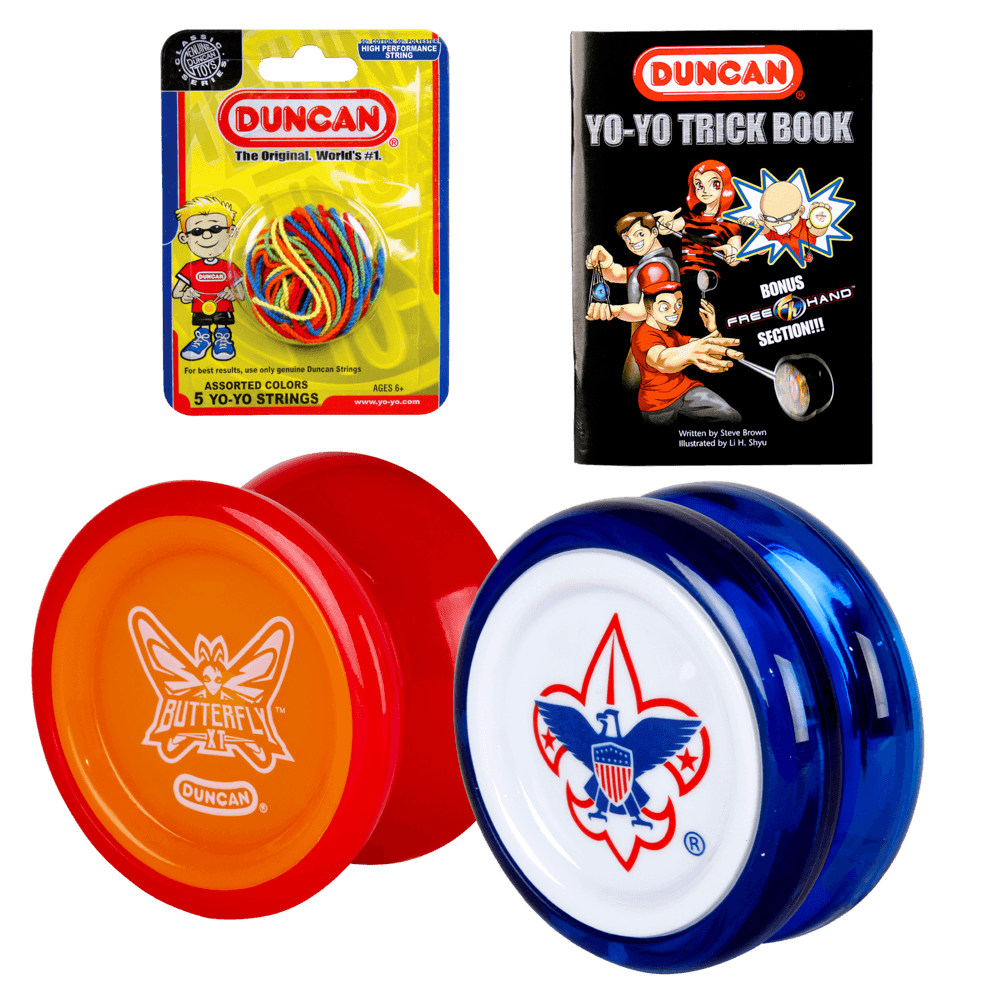 Boy Scout Starter Kit
Duncan's Boy Scout Starter Kit will equip you to begin your journey with the best gear possible and take you from an entry-level participant to an accomplished player.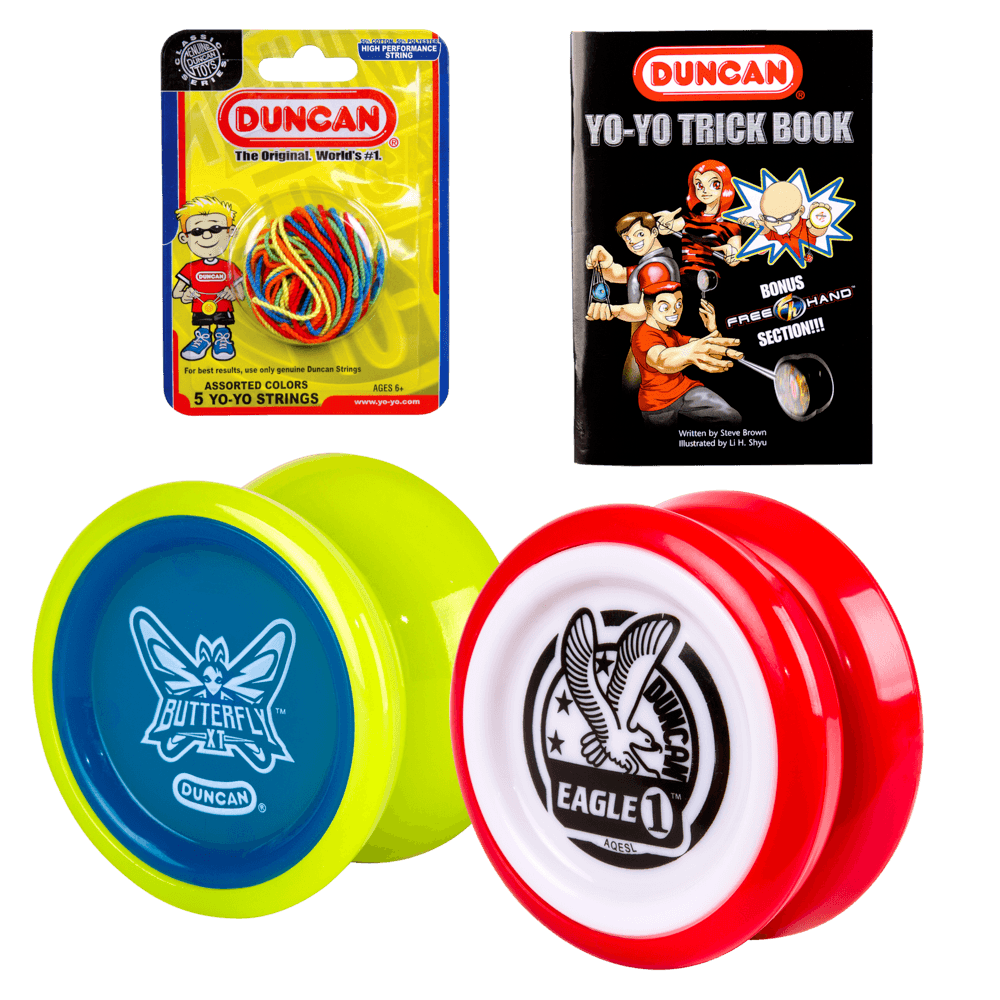 Cub Scout Starter Kit
The Cub Scout Starter Kit comes with everything you need to feed your newfound yo-yo passion! It includes 2 yo-yos, extra string, and a trick book.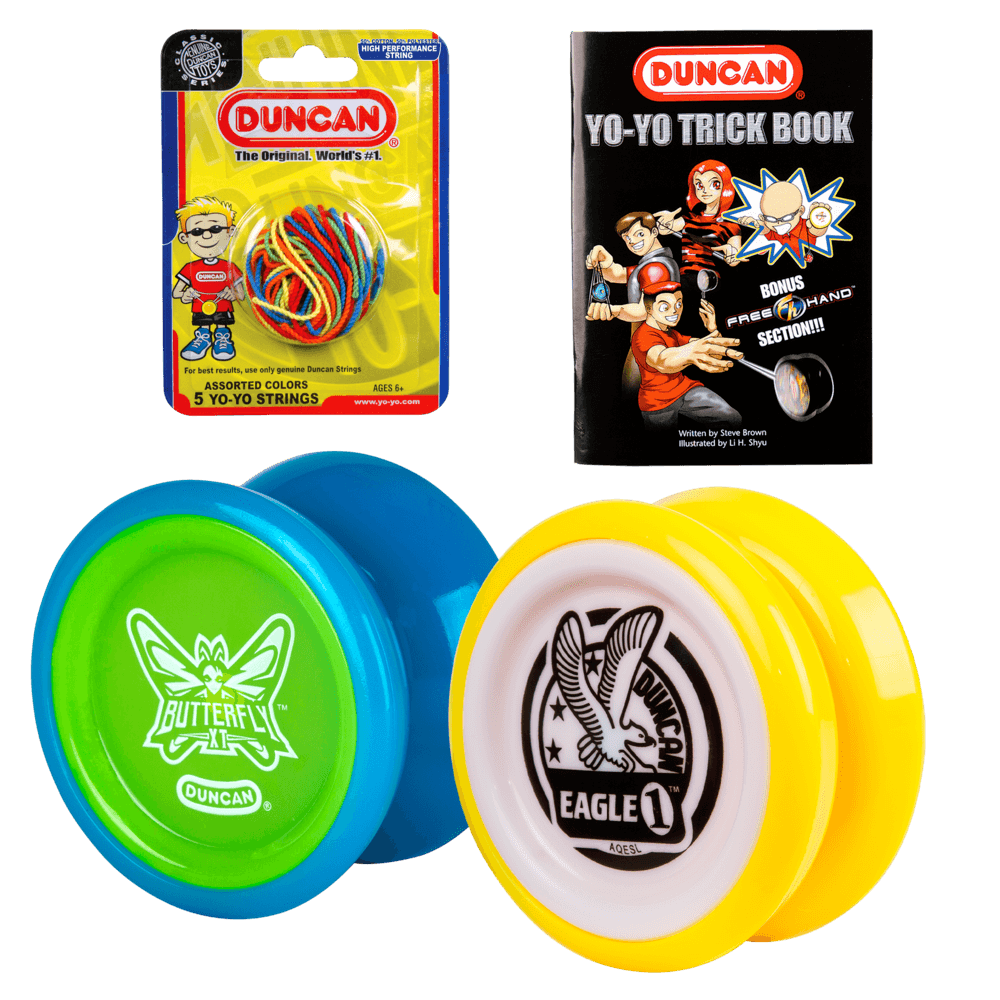 Imagination Starter Kit
This bundle is the perfect fit for your imagination presentation. It comes fully equipped with 2 yo-yos, string, and a trick book.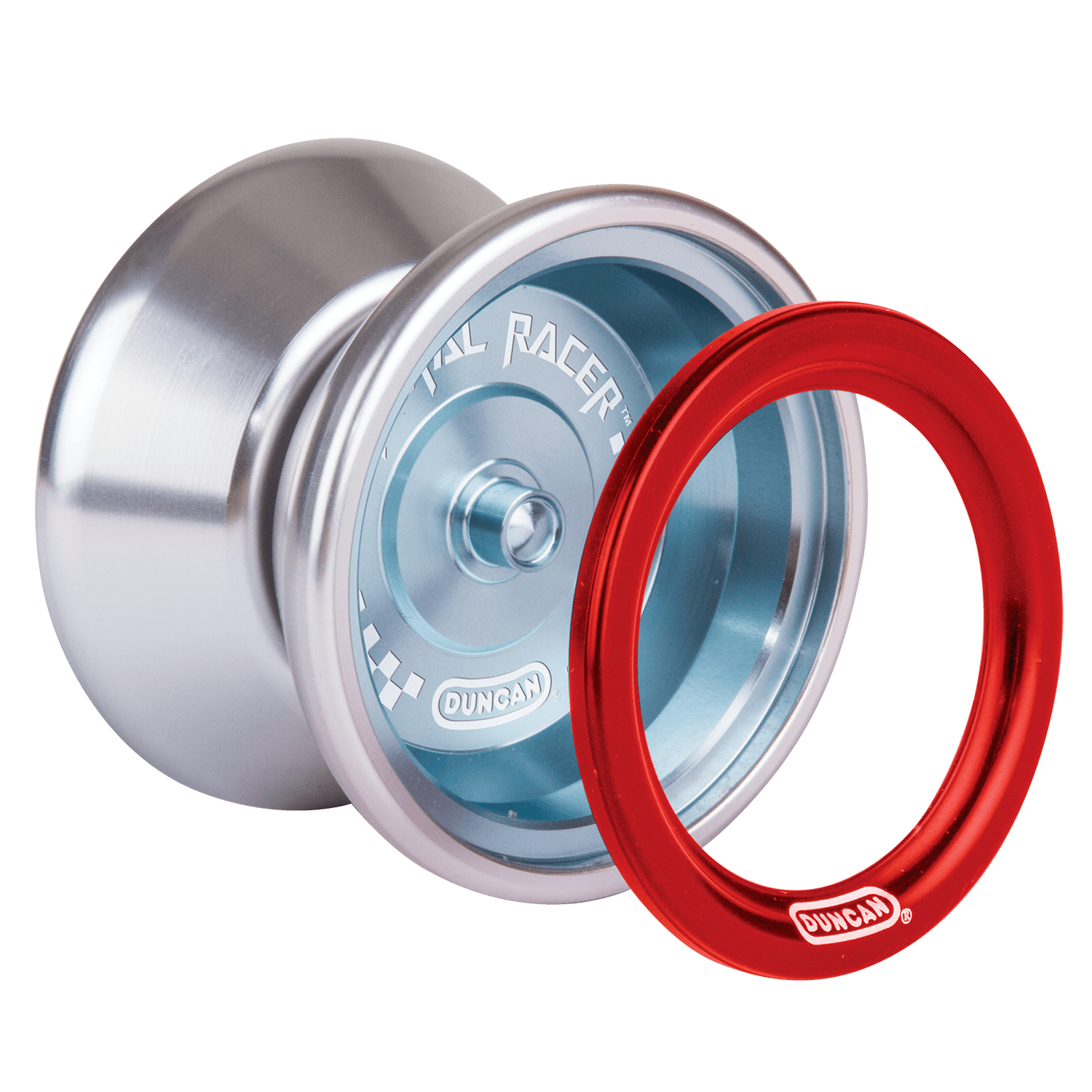 Need a customized yo-yo?
Fund Raising
Promotional Giveaway
Specialty Advertising
Recruitment
Birthdays & Parties
Schools, Churches, Libraries & Summer Camps
Scouts & Youth Leader Organizations
---
Customize a Yo-Yo
Case Packs
Need more than one yo-yo? Case packs offer an assortment of colors and economically priced!
---
ProYo® – Assorted 12 Pack

A modern Classic, ProYo features a patented removable/replaceable wooden axle that makes looping tricks easy with that classic wooden yo-yo feel.

ProYo's durable plastic, rim-weighted design increases spin time allowing for more tricks to be performed with one throw. With its take-apart design, removing knots is now easy as twisting the halves in opposite directions, removing the knot and re-assembling.

Specs:

High Quality
Proprietary Design
Exceptional Performance
Made of Durable Plastic
Great for Beginners
Wooden Axle for More Response

Eagle 1 – Assorted 12 Pack

Step up with a plastic sleeve transaxle yo-yo for longer sleep times with the Eagle 1. Going from a standard fixed axle to a transaxle yields 3x more spin, and more time for tricks!

The hard plastic sidecaps are not only removable, but gives a great feel when throwing or looping. Twist-apart design for easy string changing.

Specs:

Skill Level: Intermediate
Body Material: Plastic

Colors:

Red & White
Blue & White
Yellow & White

Yo-tility™ Holster – 12 Pack

The ultimate yo-yo tool is here! Each Yo-tility™ Holster serves as a yo-yo holster, bearing removal tool, and string cutter all in one! Easily attaches to belt loops, backpacks, and more!

Butterfly XT – Assorted 12 Pack

Based on the world famous Butterfly®, the Butterfly XT™ is a classic design with modern technology. It features a ball-bearing axle, offering 10x the spin time of the original Butterfly®.

It boasts a take-apart design for easy knot removal and starburst response design for snappy returns to the hand. These features make Butterfly XT™ perfect for a beginner to intermediate player looking for high performance at a great price!

Specs:

Skill Level: Intermediate
Weight: 59.66g
Response: Starburst
Body Material: Plastic

Colors:

Yellow & Blue
Blue & Green
Purple & Blue
Red & Orange

Reflex™ Auto Return Yo-Yo – Assorted 12 Pack

The Reflex™ is the easiest yo-yo for new players. It returns to the hand without having to tug the string! In the center of the yo-yo is a centrifugal clutch.

As the yo-yo loses spin, this clutch engages around the axle and the Reflex™ automatically snaps back to the hand. Its take-apart design also makes knot removal a cinch, while it's lightweight, wide shape makes learning new tricks simpler than ever before!

Specs:

Skill Level: Beginner
Weight: 57.2g
Response: Starburst
Body Material: Plastic

Hornet™ Pro Looping Yo-Yo – Assorted 12 Pack

Introducing Hornet™! Designed for advanced looping tricks and competition play, Hornet™ is the latest and greatest in Duncan's 

®

 line of high performance looping yo-yos.

Featuring a perfect center to rim weight ratio for looping tricks, starburst response, and ball-bearing axle for long spin times Hornet is ready to sting the competition! Hornet™ also includes two sets of bearing spacers; Aluminum for intermediate skill levels, and polycarbonate for advanced/professional skill levels.

Specs:

Skill Level: Intermediate
Weight: 52.9g
Response: Starburst
Body Material: Plastic

Colors:

Orange & Black
Blue & Green
Red
Yellow & White

Freehand® – Assorted 12 Pack

Freehand is the original counterweight yo-yo!

With the introduction of Freehand came a new way to perform tricks by attaching a counterweight to the end of the string.

The string is no longer attached to your finger, allowing you to perform tricks never done before.

Freehand features SG stickers with thinner ball-bearing for perfect response. Matching casino die counterweight included! Check out our counterweight videos for an arsenal of tricks.

Specs:

Original Counterweight Yo-Yo
Made of Durable Plastic
High Speed Ball Bearing & Smooth Response
Long Spin Times

Colors:

Red & Black
Blue & Orange
White & Red
Green & White